Nestled between the Santa Ynez Mountains and the Pacific Ocean, Santa Barbara is the perfect setting for hiking. Santa Barbara County has numerous hiking trails varying in difficulty and scenery. Below is a list of some of our favorites.
Seven Falls
A moderate 3.5-mile round-trip hike offers boulder hopping and beautiful cascades after rain. A perfect trail for those who enjoy jumping in some cold water during a hike.
Hot Springs Canyon Trail
One of the many hikes maintained by the Montecito Trails Foundation is a 3.7-mile hike that takes an average of 2 hours to complete.

At the top of the trail, you will find about seven different pools, all man-made by the surrounding stones. The pools vary in size and temperature and offer a unique opportunity to relax and enjoy natural hot springs.
La Cumbre Peak
La Cumbre peak is an intermediate to hard 10-mile out-and-back hike. The final destination is Santa Barbara's highest peak at 4,000 ft. elevation offering panoramic views of the coast.
Inspiration Point
Another hike with gorgeous views of the city, ocean, and islands. The trail is a moderate 3.75 mile, out-and-back, and provides overviews of the entire Santa Barbara area.
Lizard's Mouth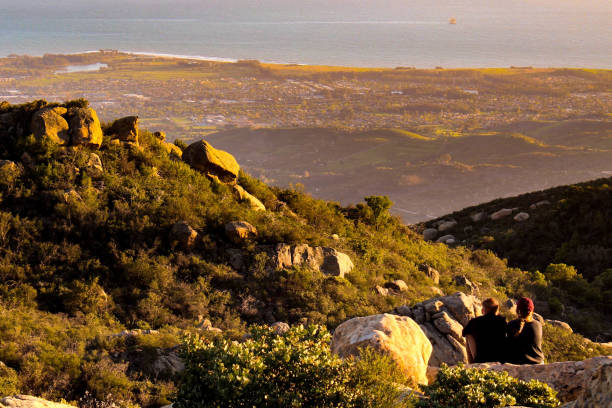 Getty Images
An easy quarter-mile walk just off West Camino Cielo Road. The trail opens up to jaw-droppingly scenic views and has plenty of room to post up with blankets to watch the sunset.
Rattlesnake Trail
A gentle 3.5-mile round trip hike with a large clear path, perfect for large groups and families.
Cathedral Peak
One of the most challenging hikes in the area, Cathedral peak, is rated for Class 3 rock climbing and has a 3,000-foot elevation gain. To access the trail one must follow the Jesusita Trail until it descends into Mission Canyon. After continuing upstream, a steep and narrow hiking trail to Cathedral Peak will appear, which requires climbing over boulders and weaving through thick chaparral.
Santa Barbara Botanic Gardens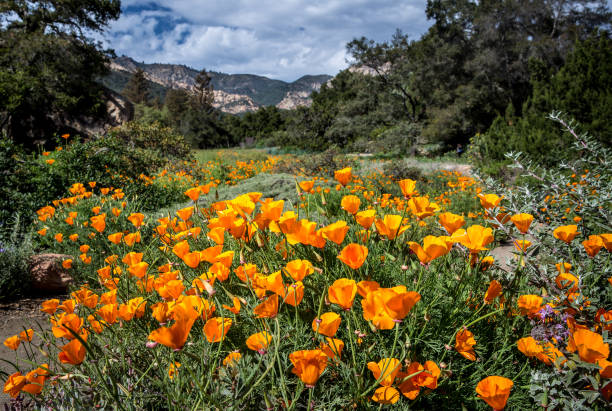 Getty Images
Located in Santa Barbara's mission canyon, the botanical gardens have 5 miles of paths that allow visitors to explore the over 1,000 native California plant species. Everything from redwood groves to meadows full of wildflowers in the spring.
Nojoqui Falls
A .65 miles out and back trail that ends at an 80-foot waterfall. Located 40 miles from downtown Santa Barbara, just beyond the Gaviota Tunnel on the 101 Freeway.
Tunnel Trail
Beginning on the same paved road as Inspiration Point, Cathedral Peak, and Seven Falls. The hike is about 9 miles with a few extra miles tacked on if you continue to La Cumbre Peak.